Completing Your RSA in Sydney…
Okay, let's have a look at the most important information for those looking to complete their RSA in Sydney. First things first, is the RSA compulsory for those who want to work in the liquor industry in Sydney? Yes. It is compulsory for any person supplying liquor on a licensed premises in New South Wales to complete their RSA Certificate – so there is no way to get out of it. If you plan to work in the state of NSW and specifically Sydney, then obtaining your RSA NSW certificate is essential. The main aim of the course is to provide managers and staff the knowledge they need to ensure they provide an enjoyable and safe atmosphere for their patrons.
Where Can You Get an RSA Certificate in Sydney?
There are heaps of training providers that offer the RSA in Sydney, however not all of them are the same and some aren't accredited by the necessary authorities.
We recommend you checkout the website of a particular Sydney Training Provider. They are accredited by the necessary authorities and they are one of the cheapest providers in Sydney – they charge under $100 for their course which is a lot less than competitors. Click here to checkout the Online Sydney Training Provider we recommend.
They are a great training provider for those of you who don't want to do the training at any locations then you can complete your RSA Sydney Online with them. The NSW government finally accept online accreditation if they are accredited by the NSW government. They only charge $97, do definitely check them out.
If you want to complete your RSA Course face to face in Sydney then we recommend another training provider. They have training locations in Sydney CBD, Parramatta & Campbelltown and offer great training so click here to checkout the face to face training provider we recommend.
They also have training facilities in other states in Australia. So incase you're planning on working in another state, then I'd definitely recommend you speak to these guys, they are very well known in the industry.
Just incase you don't feel like reading we made a quick video for you to outline all the basics about completing your RSA in Sydney.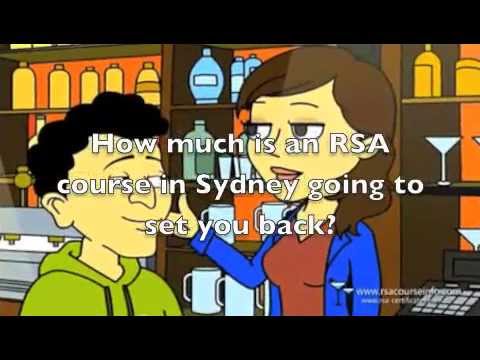 What Will An RSA-NSW Certificate
Cost to complete in Sydney?
Definitely one of the most important questions. The cost of an RSA certificate differs depending on which training provider you choose. I would expect that you would pay around $120-$150. Just remember that the price does not necessarily determine the quality of the training, however, please be aware if a course is a lot cheaper than other companies, then they may not be approved by the necessary authorities. If you have any concerns as to whether a company is approved by certain authorities then post a comment on this page with the company you have chosen and one of our staff members will check it out for you. However, as mentioned previously, we recommend this Sydney Training Provider because we know they're accredited, they offer the best price so definitely check them out.
Want to Complete a Cheap RSA in Sydney?
Why Is the RSA Course Sydney so much more expensive than other states?
Trying to find the RSA in Sydney for $50? Keep reading and we'll explain why no training provider in Sydney can offer the RSA Course for this price.
Everything in Sydney is always more expensive right? Well. That's why the RSA Course is so expensive. Okay, that's not the only reason why RSA courses in NSW are far more expensive than other states. The simple and honest answer is – the Government. The NSW government charges training providers a really high amount per student who completes the RSA Certificate in NSW (they charge around $70 per student). So technically you're paying the RSA training provider $50-$60 for the course and the NSW government takes the other $70 (You know the government – they love making money where they can). This is why training providers don't have a choice but to charge significantly higher prices for their courses as opposed to other states. If you can find a training provider that charges less than $120 for an RSA in Sydney – please let us know, because we haven't been able to find one anywhere.
Who Has To Complete an RSA Course to work in Sydney?
All staff that are involved in the sale, service and supply of alcohol including promotional staff must complete their RSA certificate. This includes but is not limited to
Security guards that are involved with crowd control
Bar Staff
Floor Staff
Approved Managers
Licensees
Volunteers involved with the sale, supply or service of alcohol.
Why Do You Have To Complete
An RSA-NSW Certificate
To Work In Sydney?
It is crucial that staff members employed in a licensed venue have the skills and understand their legal responsibilities associated with the service of alcohol.
Doing a responsible service of alcohol course aims to ensure that employees understand the following:
Can I use an interstate RSA Certificate in Sydney?
No. Sydney and NSW do not accept any other certificate from any other state in Australia. Stay away from any training providers that claim an interstate or Nationally recognized certificate will be accepted in NSW, as the NSW government do not accept them. The training provider mentioned above is registered by the necessary authorities, so you know you're in safe hands with them. RSA NSW training has to be done by an accredited trainer that is approved by the Casino, Liquor and Gaming Authority in NSW.
Can You Be Employed in Sydney
and Supply Liquor If you Are Under The Age Of 18?
You cannot supply liquor whilst employed in NSW if you are under the age of 18. You can complete the course before you are 18 if you complete the course with this training provider, however you cannot be employed to serve liquor until you are over the age of 18.
RSA Sydney Training Provider
Location: Online
Cost: Only $97
Book Now Online: Visit RSA Sydney Online Training Provider
Loading ...